There's a growing trend of extortion or blackmail emails going around, with the latest iteration focusing on porn. The basic principle is the same with this scam as all the previous extortion ones, they demand money in bitcoin (BTC). If you pay up they promise to not divulge a supposed masturbation video to your contact list.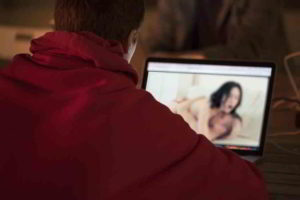 Here's an excerpt from such an email:
You can run to the cops, but they will not settle out your issue. I am an outsider, so there is no way out they trace my address 100%. Your personal computer has been infected by my software. We turned on your web-cam at the time you went to the erotic web site.  I have the video of you masturbate. We also took your contact list, so if you want me to keep this between us, you have to transfer 550 dollars in bitcoin. Use this bitcoin wallet # 1KiCTVUq5A9BPwoFC8S965tsbtqcWr8bty to remit the amount. You possess 29 hours after reading letter.
When you reply to this email, my system will promptly transfer the information that I have full power of your device. So, immediately after your email, you will get new disbursement details and you will need to send 2 200 $ instead of the first amount. 
Wish you luck. Keep in mind the consequences. 
P.S. I am not a native English speaker but I hope you get me. Sending the money is the only way to seal this matter. Don't try any funny stuff, it's there is no point in that. This email was only used to make sure that you got the message. Hello from the east, your biggest fan.
What this particular email scam has going for it is the general fear of embarrassment that may affect the victim who receives this email. Whether you have actually viewed porn or not, or even done what they state you have, the potential embarrassment and damage to your character could be immense.
Now for a reality check. While I have no idea if your particular system has been hacked in such a way without examining it, the propensity of such a threat being completely bogus is quite strong. My reasoning for this:
There is no specific information about your activities.
No indication of proof of your contact list with any such examples.
The general poor grammar that matches all the other such extortion emails out there.
If you were thinking about paying this bitcoin scam, I highly recommend you do not. It just perpetuates cyber crime and makes it more likely such things will continue.
If you would like to ensure or prevent your systems from such attacks simply contact me. I can scan your systems ensuring they're secure and set you up with a backup system just in case anything ever did get through.